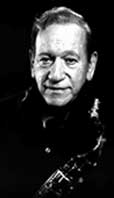 Jack Montrose
& his West Coast Friends

Jack Montrose, John La Porta,
tributes to Charles Mingus
and Gil Evans

Saturday, January 27, 8:00pm
Admission Free
Pickford Auditorium,
CMC campus, Claremont
The American Jazz Institute has planned a series of diverse and exciting concerts for its 2001 season. These concerts, chosen to supplement and enhance the course offered through Claremont McKenna College, History of Jazz in the 20th Century, will bring four special musical guests to the CMC campus during the first four months of 2001. Jack Montrose and John La Porta have writing and performance experiences that date to the 1940s, while Ray Drummond and Tim Hagans are artists whose careers began in the 1960s and 1970s respectively. In addition to the unique skills of Montrose and La Porta, Ray Drummond will bring his virtuosity as a bassist to the Mingus tribute and the genius of Gil Evans will be brought to the fore during the "Sketches of Spain" evening with Tim Hagans.
Best known as a writer of impeccable taste and unending imagination, Jack Montrose is also a wonderful tenor saxophonist. One can hear the influences of Ben Webster and Lester Young as well as John Coltrane, which is evidence that Jack is always ready for change.
After Los Angeles State College (1953), Jack worked with Shorty Rogers, Mel Torme, Red Norvo and Stan Kenton among others. His recorded collaborations with Art Pepper are as legendary as the Lee Konitz-Warne Marsh east coast sessions. Jack wrote the landmark arrangements for the 1954 Clifford Brown west coast date for Pacific Jazz. Recordings on Atlantic, RCA and Pacific Jazz reveal Jack as a leader, arranger, composer and player. As the music scene on the west coast began to change, the 1960s found Jack in Las Vegas working shows with Frank Sinatra, Sammy Davis Jr., Dean Martin and many other celebrity performers. Jack continues to write, study and, most importantly, provide memorable listening experiences as a superb improviser.
-- Mark Masters
"Jack Montrose & his West Coast Friends" is a presentation of AJI and the History Department of Claremont McKenna College. This evening of small group jazz will feature Jack Montrose in three settings: quintet, sextet and septet. Also appearing will be Milcho Leviev, Bill Perkins, Joe LaBarbera, Dave Woodley, Putter Smith and special guest Conte Candoli.